Café Review: Real Food at 1 Mont Kiara
In a world filled to the brim with cuisines and a variety of food made from Mother Earth and "enhanced" by Man is there such a thing as "Real Food?" What is "food" anyway? Is it not merely a medium with which energy is stored for us to feed upon? If that is the case then is there really a need for "delicious" cooking? To what lengths must we go to so that we may satiate our hunger for the most delicious item on the menu?
We've gone to the most extreme and feasted on the most dangerous of delicacies, poison cooking, where the Spice of Life isn't enough without a dash of Death. We've brought out "umami" in our dishes at the expense of our own bodily damage with MSG. We've replicated lambs, genetically modified ingredients and created Food Factories where animals are made to feed our Greed. Yet we're never satisfied! A world filled with food and a world lived on "fast-forward," is there a case to be made for thoughtful and slowly appreciated cooking and dining? One cafe-restaurant, Real Food, thinks there is.
Real Food, located inside the newly created mall 1 Mont Kiara, is a safe haven where even Father Time is forced to take his sweet time admiring the space, savouring the food, and enjoy life amidst the fast-paced city that Kuala Lumpur has become.
A Sensual Space
Unlike many cafes in the area Real Food is very spacious (to the point where one is amazed by how they're able to sustain themselves with such high rents) with a typical trendy concept full of geometric lines, polished cement, wood tiles, high ceilings and minimal designs. The interior design creates ample room for you to merely wander from one thought to another. One can't quite call it a "cozy" cafe but it is comforting to find a large space to oneself to think about life & work and to enjoy the food & coffee.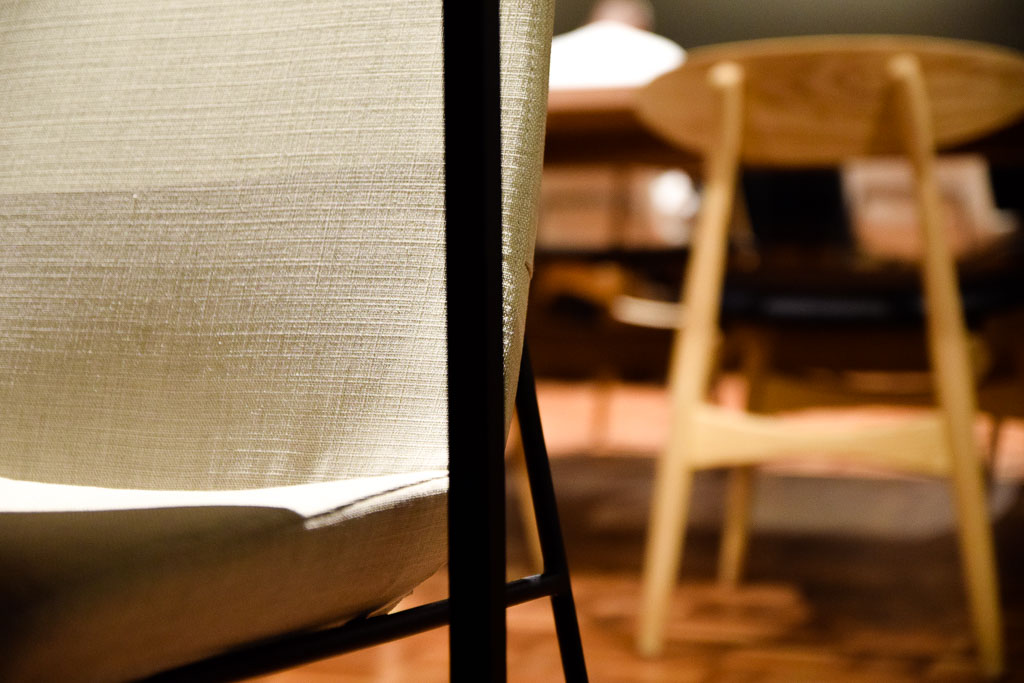 Real Food at 1 Mont Kiara is, in many ways, a very sensual space that plays to the five senses. From the textured cappuccino cup to the upholstery of the chairs and the cold wooden tables. You're welcomed by a myriad of textual sensation that lets you be adventurous and explore the Cafe's interior. With an open layout in a such a huge space you'd think that the visual of the space could get quite boring real fast but their placement of the furniture allows for visual breaks and create a sense of wonder.
Not only that but their use of light goes beyond merely illuminating a room. The lights give shapes and visual texture to the gray walls which create sharp rectangles and smooth semi-circles that adorn the cafe. With a belief in food "balance," they've even kept the shadows in the cafe to balance out the light.
Moreover, intricate shadow patterns link with the black steel-like chair legs and pockets of darkness create a beautiful contrast in this windowless cafe.
The air is filled with a light jazz mingled with the mind-numbing hum of the air vents (like the annoying hum of a refrigerator you can't quite drown out once noticed...but more therapeutic) that tune out troublesome thoughts of the fast lifestyle awaiting us outside. The minimal and clean space is met by an explosion of the five senses on the plate that drifts onto the table by the cafe's staff.
Food Just Got Real
The Cappuccino That Likes It Rough
I've had a number of cappuccino's in my time cafe hopping in Malaysia with this Italian lifestyle I've incorporated in my coffee habits and the cappuccino (RM 14) served here is a high quality beverage - served on a brown towel.
The cappuccino's brilliance and taste may be attributed to its organic origins. The bitterness was just right and the flavour was deeper and more mature than other coffee shops. What the coffee lacks in latte art it makes up in taste (isn't that what's more important in a coffee rather than it's instagram worthiness?!). One other aspect that elevates the coffee-drinking experience is the cup itself. As opposed to the usually smooth ceramic feel of the cup when your lips meet to savour the beverage, at Real Food (1 Mont Kiara) your lips will be met with an exotic sensation that is rough to the touch. No need to lie to yourself… we all know that you like it rough don't you (I jest).
It's Delicious, It's Pretty, It's Expensive...Is It Worth It?
From the extensive yet concise dishes listed on the menu I decided to try out their Portobello Burger (RM 29) with a side dish of Organic Potato Wedges (RM 13) and a glass of Carrot Ginger Pineapple (RM 17) juice to wash it all down.
The Portobello Burger is a healthier and a veggie variety which differs from their meatier counterparts (McDonalds is across the street). However, do not assume that a burger made out of mushrooms would be soft, bland, and boring because the Portobello Burger provides for a clean tasty meal full of umami enclosed in a crusty-fried skin and wrapped in between two warm buns. Like any burger the Portobello burger is stuffed with layers of fresh greens and a spread of organic vegan mayo. The dish is served with homemade organic potato salad and sprouts. The true testament to a vegan burger is it's capability to ensure that the diner does not regret coming to Real Food as opposed to the burger joint across the street.
What is a burger without a side of delicious starch? Instead of just some regular potatoes I was intrigued by the sweet potatoes in their Organic Potato Wedges option. This side combines both organic potatoes and sweet potatoes which were cut into wedges, fried and tossed with some Sonmentor herbs, salt and pepper. Nothing too complex or complicated just simple raw flavours enhanced by a few other ingredients. The potatoes chosen for the dish were delicious and sweet, an indicator to the commitment to quality by the owner and staff.
With all that caffeine and oil some gastric-relieving ginger and acid-cutting pineapples proved to be tempting as a way to round off the entire meal. A simple blend of fresh and organic Carrot, Ginger and Pineapple juice finished my meal and time at Real Food before any further "damage" could be done to my wallet.
You've perhaps already gleamed at the prices of the items I had chosen for my coffee and lunch (which totalled to a whooping cost of RM74...for one person!) so it may not be the cheapest cafe hop I've done. That being said, ask yourself this, how much are you willing to pay to live life healthy? Is your life only worth the cost of a BigMac and ChocoTop at McDonalds? The price you'd pay here at Real Food goes beyond just a tasty meal. It is a place to rest your tired mind from the fast-paced world outside and to re-invigorate the micro-universe that is your body. It is easy to fall prey to the belief that eating "organic" is just a fad that won't provide for that six-pack or bubble butt but...even the most sexiest of physiques can easily fall prey to the poison of the mind, body, and soul. Take it easy, slow down, eat healthy (and exercise), and be happy...your finances aren't going to take a big hit from one day or two of clean eating.
MY VERDICT SUMMARY
Coffee: C'est delicieux~! – 5/5

Food: It's tasty but a touch bit pricey – 4/5

Customer Service: Brilliant Service – 5/5

Décor: C'est intéressant – 4/5

Verdict: 90/100. It's worth a visit!